Blogue de l'Événement Carrières
How to prepare your visit to a job fair?
Par l'Événement Carrières
Looking for a new job in Quebec? Are you looking for continuing education in Montreal? You have never been to a job and training fair, a job fair, a job day?
For your first visit, or even your next visit, we suggest a few tips for organizing a job fair.
First of all, check the website of the fair's organizer to find out as much practical information as possible:
Date
Opening hours
Address
Accessibility
Access conditions
You still have questions? Please Contact us !
Then, if you have the opportunity to go to this job fair, you can think about your aspirations and expectations by going to this event. You can define the type of job you are looking for, the field, the opportunities you are interested in, the salary conditions you are looking for.  Finally, after having targeted your objectives, you will be able to prepare your visit with more ease.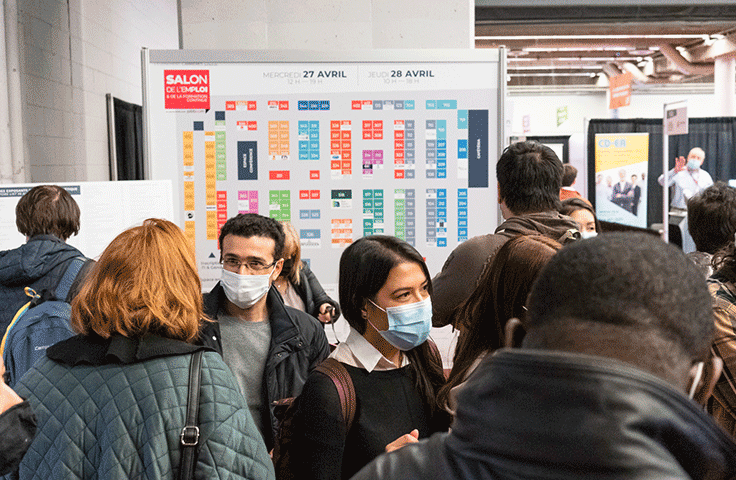 Use the exhibitors directory
With our new exhibitors directory, make a first search to know the companies present, but also the jobs offered. You can organize your search by field:
Job field
Job opportunity
Region
Event
Area at the fair
Keyword
You can add exhibitors to your favorites and get a list of your favorites: you can print it, save it as a PDF, or even save it by hand.
This list will be useful once at the show, with the map, to easily find the booth number and locate the exhibitor you are looking for on the map.
Prepare your resume
Take the time to make or update your resume based on the type of position you are seeking. You can also make several templates if you are looking for different positions, requiring different skills or qualifications.
Some exhibitors will appreciate receiving a paper resume, if you don't have that option, you can put it on a flash drive or offer to send it by email.
By sending your CV by email, you take advantage of the opportunity to collect the recruiter's contact and to be able to send a thank you message a few days after the job fair.
This is an opportunity to update your profile, complete the various fields, display your objectives and highlight your assets! You can share your LinkedIn profile by giving your name to recruiters, or by showing the QR code on your profile.
Show your motivation
You'll need to approach the exhibitors you want to meet and initiate the conversation! Prepare a few icebreaker questions to start your exchange, but also questions about the company and the position you are interested in.
Stay open to opportunities, some exhibitors may be able to show you their offers! You can take the time to learn more about the company, the offers and consider new possibilities.
Be prepared, feel prepared
 By preparing your visit, you will optimize your chances of obtaining results and you will be more confident in your discussions and during your visit to the job fair.
Highlight your background and profile to recruiters!